Mission Viejo Stump Removal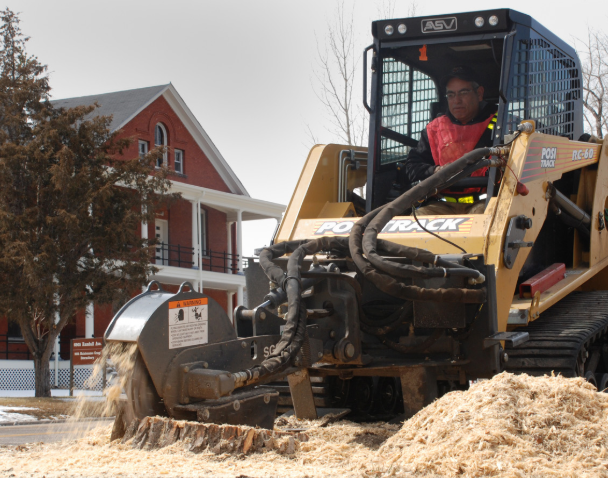 You've just cut down a tree, and now you have a stump sticking out of your backyard. You will want to get rid of it as soon as you can, for several reasons, not least of which is the fact it's quite an eyesore. At Mission Viejo Green Tree Service Co., we have solutions to all problems involving stump grinding and removal. We understand that stump removal is a tedious task that requires just that. With our top-class professionals and modern equipment, your problem will be gone before you know it.  
Stump Removal in Mission Viejo, CA
Cutting a tree will always leave a stump behind, and that's as far as modern technology can go. This may prove challenging to deal with. There are three ways to deal with stump removal, and we have specialized in all of them. Whether you choose to let it rot on its own, opt for stump grinding or removal, we are the expert arborists offering professional advice on tree care and maintenance throughout California.
Stump removal means pulling the tree stump from the ground, usually requiring heavy machinery and expert craftsmanship. It involves removing the roots and leaving no parts of the stump on the ground, no matter how spread out they may be. For many, it is challenging. But for Mission Viejo Green Tree Service Co., this is where we succeed.  
Why is Stump Removal Necessary? 
You may ask yourself if removing the stump may be as necessary as we make it sound. Well, let's present our case:
Tree stumps are an eyesore—no argument about it. Stumps leave an ugly impression on the surrounding, no matter how good the backyard is. You will have to get rid of the stump sticking out in your space to regain its flawless view.

A specific safety hazard. For children and even adults, tree stumps may end up causing accidents, tripping the unsuspecting toddler, or dangerous housing dangerous animals such as snakes. It would be best if you never postponed it.

It is freeing up space for use. Stumps hold up space that could otherwise be used to complete other projects such as gardening. 
Choose Mission Viejo Green Tree Service Co.
While it may not seem so, removing a tree stump requires skill and experience. Ideally, stump removal should be carried out by heavy machinery, which requires experience and technical expertise. Working on tree removal also needs protective gear that meets the industry standards for safety reasons. At Mission Viejo Green Tree Service Co., we are well trained and fully equipped to handle it all. For Mission Viejo residents, we are available at your convenience as soon as you reach out to us. 
Other Tree Services
In addition to stump removal in Mission Viejo, we offer the following:
Tree Pruning and Trimming

Tree Cutting 

Emergency Tree Service 

Tree Doctor Services

Stump Grinding

Tree Planting

Landscaping 
If you live in California and need help getting rid of a stump, reach out to us through (949) 649-0490, and we will be ready to help. You can also contact us to respond directly to any lingering questions about tree care and maintenance. Call us now, and we will solve your problems.