Mission Viejo Tree Cabling and Bracing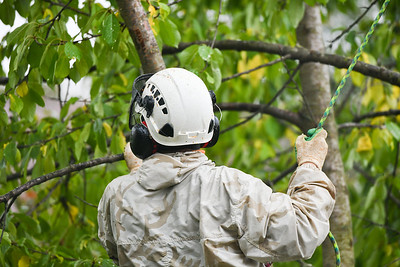 Everyone loves the cool breeze and aesthetic appeal that trees bring. However, the same trees can become a nuisance or looming danger if they can no longer support themselves if they have split trunks or their branches are breaking out often. With the right tree services from Mission Viejo Green Tree Service Co., though, you can have the trees cabled or braced instead of cutting them down.
For expert tree cabling and bracing services in Mission Viejo, CA, talk to us now. Call (949) 649-0490 or fill out the form on this page with your information, and our team will jump in on it.
About 
Mission Viejo Green Tree Service Co.
Mission Viejo Green Tree Service Co. is a company that specializes in a wide array of tree care and maintenance services. Our specialists, ranging from tree cutters to stump removal experts, arborists, and tree doctors, have the requisite training, skills, and experience to get the job done within the agreed parameters and to your satisfaction. Therefore, if you want someone to cut or remove your trees, grind stumps, or cable structurally weak trees, we will be the all-around team for you.
For all your tree types, we are the go-to team. We service the following tree types:
Palm Trees

Oak Trees

Pine Trees

Douglas Fir Trees

Maple Trees

Redwood Trees

Sycamore Trees

Willow Trees
Mission Viejo Green Tree Service Co. Offered
You can get in touch with us any time you need for professional:
Commercial Tree Services

Tree Cutting

Tree Pruning

Tree and Bush Trimming

Emergency Tree Services

Tree Removal

Stump Grinding

Stump Removal

Arborists

Tree Doctors and Surgeons

Tree Cabling and Bracing Mission Viejo
Expert Tree Cabling and Bracing in Mission Viejo, CA
At Mission Viejo Green Tree Service Co., we understand that different elements may weigh heavily on trees when a client least expects it. Strong winds, raging storms, wildfires, and excess weight from ice can affect trees and their upright structures, eventually bending or breaking them. When trees start splitting and falling, we all know the hazards they may cause on properties, animals, and humans, which means you have to take action before they do.
Tree Cabling and Bracing in Mission Viejo, CA
We use techniques to save trees when they no longer can support their weight and height. Our systems are non-invasive yet highly efficient. They also offer the highest levels of care to the trees and safety to you and your property. So, why should you keep waiting for that dangerously bending tree or weakly trunks to split completely and cause damages when you can have our cable and brace them?
If you have noticed that the trees at your commercial or residential compound are losing their upright structure, you need to give us a call immediately. We will help you clear the looming danger with our expert cabling and bracing solutions. In the end, you should have the trees start to regain their strength. If the trees have been severely damaged and even cabling and bracing them cannot suffice, we will advise you on the best options.
Our experts start by assessing and diagnosing the problems that your trees have started to develop. We do this to advise you on whether cabling and bracing will work or whether you will resort to cutting the trees down instead. Once our certified arborists assess the problem, they will advise us on what best can be done, and then we can jump into action straight away.
Contact Mission Viejo Green Tree Service Co.
Contact our able crew of arborists today for a free estimate and assessment. Let us help save your trees and save your property and family from hazards caused by weak trees.
To speak to an expert, call (949) 649-0490 now. Alternatively, you may leave us your details on the contact form on this page. Once we receive your message, we will pick it up from there.