Mission Viejo Tree Lopping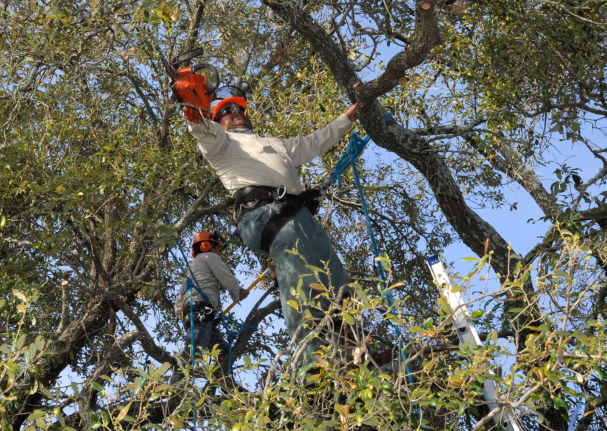 Bad coffee is either too strong or too weak. Bad race car drivers wander all over the track and become a hazard to those around them.
Bad tree lopping is also too strong, too weak, or too haphazard. At Mission Viejo Tree Service, you'll get better than good tree lopping: You'll get tree sizing and shaping that would make the finest arborists who ever lived proudly.
No, we don't stand on mediocrity here. Our tree lopping service extends far above the norm for what passes as "good". We've been in the business for years with a fully trained crew of committed professionals.
Give us a call at (949) 649-0490 to learn more about tree lopping in Mission Viejo, CA.
Tree Lopping Defined
Tree lopping is the process of removing large branches from the main trunk of a tree. It can also include removing the entire top of a tree (topping). Its purpose is mainly for reducing the size or altering the shape.
Why make the tree bigger or look different? In some cases, the tree is considered a hazard and needs to be made smaller for safety reasons. In other cases, the tree may be blocking views or interfering with power lines.
Lopping a tree can also be done for purely aesthetic reasons. Some people prefer their trees to have a certain look, and topping can achieve this.
However, tree lopping is not always considered good practice. It can be harmful to the tree and make it more likely to succumb to disease or wind damage. For these reasons, you should never attempt to lop a tree on your own.
The folks at Mission Viejo Tree Service will always know exactly why, when, and how to perform tree lopping. We'll also take the time to explain it all to you before starting work.
Trees In Saddleback Valley? Where?
Oh, come now. The place is flat but still rife with specimens. We've got pines and palms and peppers and lots of others. Each of these trees deserves the kind of care that only people like us can provide.
Tree lopping can be beneficial for a tree when it involves cutting it back from power lines or shortening its trunk to make it more stable in high winds. But it should only be done by an experienced tree lopper.
Why Else Is Tree Lopping Important?
Tree lopping is also done to remove damaged sections of a tree. This allows for more healthy re-growth, which in turn extends the life of the tree. It also helps the tree to look its best.
Quality tree lopping improves the look of a landscape by making specimens blend in with their surroundings. In this respect, it's almost an art form. If you've ever seen the movie "The Karate Kid", you may remember Mr. Miyagi shaping his bonsai trees for Daniel. That was a kind of lopping.
Mission Viejo Tree Service Can Help
If you're not sure whether or not your tree needs lopping, just give us a call. We'll come out and take a look. We'll also give you a free quote for our services.
We will never perform an unnecessary service that places a healthy tree in danger. You'll get a comprehensive evaluation of what we're dealing with. After that, it's all about making life better for the tree and the property it sits on.
Mission Viejo Tree Service is always happy to help. Just give us a call or send us an email. We'll be happy to answer all your questions about tree lopping, sizing, shaping, and anything else related to trees.
Reach us today at (949) 649-0490.